MC2 Seminars Will Transform Your Patient Results!
Learn the technique that everyone is talking about!
Tonal Pediatrics + MC2 Technic Seminars
OMAHA NE | OCTOBER 28-29, 2017
2-Day Event
When:
Saturday, October 28, 2017 | 8:30am – 6:30pm – "MC2 Technic Seminar"
Sunday, October 29, 2017  |  8:00am – 5:30pm – "TONAL PEDIATRICS"
Instructors: Drs. Steve Hoffman and Daniel Bronstein
Host: Dr. Lyle Koca
Location: Koca Chiropractic
Address: 11420 Blondo Street, Suite 102, Omaha, NE 68164
For more location information or seminar details, contact Dr. Koca at (402) 650-5179 or email him at kiroman@abbnebraska.com for details.  CE APPLIED FOR.
For a complete program overview, CLICK HERE or download the agenda from: https://www.hightail.com/download/dDZGckhlZ2owVWtLSk1UQw

Special PRE-REGISTRATION Pricing!
Doctors: $695…Save $295
Refreshers: $640…Save $150
Students: $300…Half Price
All Savings Taken on the Registration Page
These special prices valid until midnight 09/30/17
Mc2 Technical Mastery Seminar DVD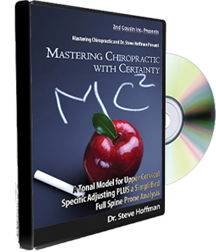 "It's a contradiction to tell patients the body is a dynamic, self healing organism and then adjust the same subluxation pattern visit after visit after visit!"
Experience a practice without contradiction.  Combine the most important elements of the Philosophy, Science, and Art of Chiropractic. Video of this one-day seminar has been converted to Windows Media Video format and is instantly downloadable.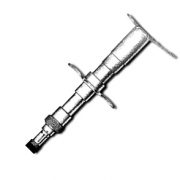 The Integrator™ is the only chiropractic adjusting instrument that was developed out of randomized clinical trial, blinded and with placebo control. The study was designed by Robert Duncan, PhD., biostatistician, at the University of Miami School of Medicine, together with the Holder Research Institute and founded in part by a grant from the Florida Chiropractic Society. Years of development, testing and design went into creating an instrument that would deliver that 3rd dimensional dynamic that adjusting by hand embraced but that no other instrument in chiropractic delivered; "TORQUE" and "RECOIL". THE INTEGRATOR reproduces the entire thrust and movement components of TOGGLE RECOIL, the classic Chiropractic Method of adjusting by hand at a speed of 1/10,000th of a second. No instrument in chiropractic history has been able to reproduce what the hands were intended to do!
Please Note: Shipping of The Integrator will be restricted to addresses within the U.S. Orders placed for The Integrator outside of the U.S. will NOT be fulfilled.  If placed, these orders, when refunded, will be subject to a 10% restocking fee in addition to any Foreign Transaction Fees.
$825.00 + $30.00 S&H (At Seminar pricing within 7 days)
*MC2 Status will be verified
$875.00 + $30.00 S&H(for US-based MC2 Docs)
*MC2 Status will be verified
$975.00 + $30.00 S&H
(for Non-MC2 Docs)
The Integrator™ + MC2 DVD Package
Save $25.00 when ordering The Integrator™ and the MC2 Technical Mastery Seminar Video together!
This offer not valid outside the U.S. See note above regarding refund policy.
"Wow!!  I have never seen results like this in my office!  I have a patient with spasmodic torticollis that she has had for over 35 years.  With one adjustment her friends and family members commented on how straight she looked and that they can't remember ever seeing her like this before…"
The ArthroStim® instrument allows the doctor tremendous control over all adjustment variables. The ArthroStim® (Hoffman Kit Model) allows you to vary the intensity of the adjustment from 1 to 12 (low beta somatomotor rhythm ) high velocity-low amplitude thrusts per second. The power of the thrusts can be changed from almost nothing (suitable even for infants) to 40 pounds of thrusting force.
The ArthroStim® instrument features a spring cushioned 'floating stylus' design that enables a practitioner to instantly increase and decrease the thrusting force simply by increasing or decreasing pressure against the body. This permits the practitioner to utilize the ArthroStim® as an extension of their own hands.
The spring cushioning produces a comfortable 'end-feel' to the thrust and it minimizes the forces returning to the practitioner. This makes the ArthroStim® much easier on the doctor's hands and body than other devices often costing hundreds (or thousands) of dollars more.
The rapid thrust and unique recoil produced by the ArthroStim® activates the patient's proprioceptors and mechanoreceptors without recruiting the nocioceptors (pain receptors), providing the comfort today's patient demands.
Patients typically notice a positive difference with the first adjustment.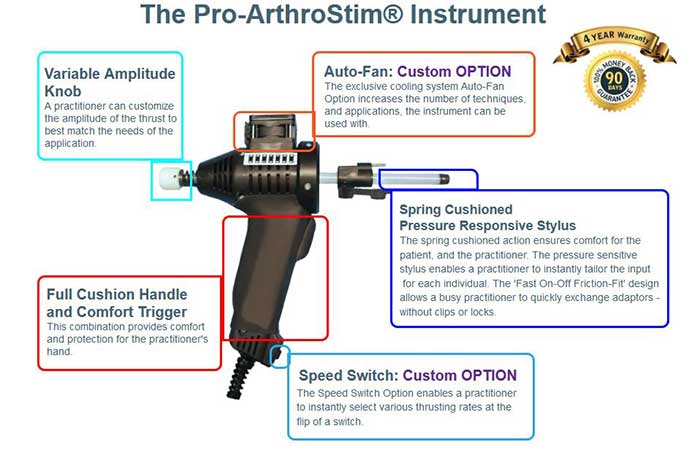 The Hoffman Kit Model Includes:
Four Year Warranty

90 Day Full Money Back Guarantee

Cushion Grip & Comfort Trigger

Sleeve w/silicone tapered tip

ForkedSleeve, Narrow w/silicone taper tips

The SPEED SWITCH option is included

Introductory DVD and manual
Arthrostim + MC2 Technical Mastery Seminar DVD
The Hoffman Kit Model (see description above)
Save 10% AND get FREE Shipping when ordering the Arthrostim and the MC2 Technical Mastery Seminar Video together!
This offer not valid outside the U.S. See note above regarding refund policy.
Sign Up for Our FREE Weekly Practice Tip